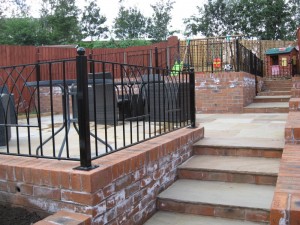 This challenging garden was on five levels, and different spaces were required for young children, a lively dog, and  for adults to relax and dine.  Safety was a key concern, so that little legs could negotiate steps and levels.   The garden also needed to be very low maintenance as both parents work shifts, and time at home together as a family is precious.
The first level surrounding the conservatory was made larger and a raised bed constructed to allow for planting close to the house.  Because hard landscaping forms a significant proportion of the garden, a natural sandstone was chosen to create warm tones in the steps and seating area.  A large patio forms the second level, with space for seating for both dining and relaxing, and a herb bed along one side provides both fragrance and easy access for picking for the kitchen.  Each retaining wall is topped with a bespoke contemporary wrought iron fence to keep the children safe, made by a local manufacturer.
More gentle steps lead to the third level – a dog pen laid with utility paving and a drain, to allow the family's boisterous dalmatian to be outside without supervision, but also to be able to see and interact with the family easily.
On the next level is the children's play area, laid with bark and large enough to have plenty of room for a play house and swing frame.  Finally, the top end is a border which is to be planted at a later date with low maintenance shrubs, climbers and a small ornamental tree.
(In case you are wondering – the white marks on the bricks are the salts that come out of new bricks and are washed off easily)