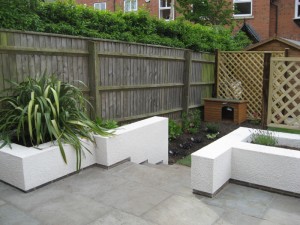 This small north-facing garden needed to provide a large space for dining and entertaining, as well as plenty of room for two small children to play and let off steam.  Although the house is Victorian, the client wanted a contemporary feel to complement the rendered kitchen extension.
The large but fairly shady dining patio is paved with a silver-grey sandstone to reflect light around this space, and complement the blue Victorian pavers laid in the side passage.  Raised beds and retaining walls are rendered with a material to match the kitchen wall, with a long bed providing space for herbs close to the house.  A trellis screen prevents diners from being overlooked by the house to the rear, and fragrant climbers will grow through the trellis to add additional screening and scent.  New, shallower steps were built from the kitchen to allow a safer route in to the garden for children and cooks!
The lawn leads to a bark-surfaced play area, which will be turned into a more den-like space by the planting of a living willow 'fedge' and small tunnel, creating a safe, secluded space for the children to make their own.  The willow will be planted next winter.
A corner of the garden will harbour a love seat for the adults to enjoy a drink in a fragrant, sunny spot closer to the children.