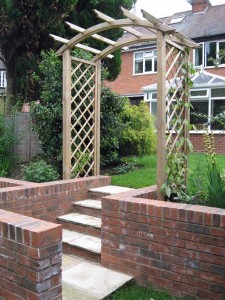 The design for this steeply sloping garden worked with existing levels, each 'terrace' becoming progressively more informal as the shade in the garden increases towards the bottom.  Structures and planting create partial screens, creating the feeling of "rooms" outside.
A curved seating area, paved with natural stone, occupies a sunny corner, and mixed planting provides year round interest from the conservatory.  An archway leads down paved steps to the second level.
From this terrace, informal wood and gravel steps lead through timber raised beds, down to the lower seating area.  Here, a natural stone circle, surrounded by planted gravel, provides a shady, private retreat on hot afternoons, with an alternative view up the garden.