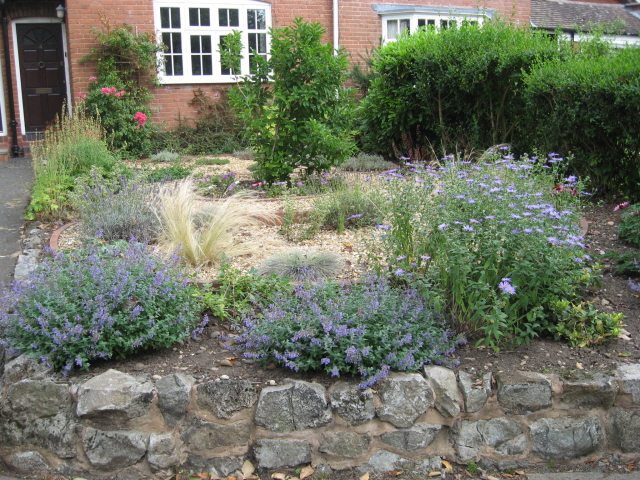 This sunny front garden is transformed into a welcoming low maintenance gravel garden, where brick edging, which retains the warm-toned gravel, forms gently curving shapes.  The focal point is a small specimen Magnolia , set into a brick circle in the centre of the garden, and under-planted with pretty flowering plants.
Golden Flint gravel forms another circle around the tree, un-planted to draw attention to the tree, and this in turn has other circles off it, which are also surfaced with gravel but this time, planted.  One area is a 'Thyme carpet' with different varieties of Thyme planted randomly to form a pretty, aromatic and bee-friendly carpet of flowers in the summer, whilst the other area is planted with a mixture of grasses, perennials, herbs and small shrubs.
Mixed borders contain evergreen and flowering shrubs and perennials to create year-round colour and interest to welcome visitors to the house. The plants also provide a habitat for wildlife, yielding nectar, seeds and fruits that provide a food source for bees, butterflies and birds.