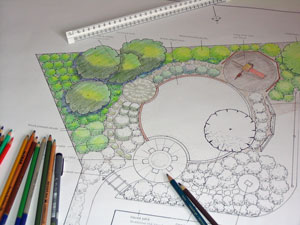 Jane Harding, Jardin Design's Designer, has trained at the West Midlands' leading horticultural college, Pershore College in Worcestershire.
She has an RHS Certificate in Horticulture and a BTech HNC in Garden Design and Management.
Jane was a Regional Finalist in the BBC Design a Garden competition in 2004, and her design, "Neighbourhood Reflections", was displayed at the RHS Hampton Court Palace Flower Show.
Jane's philosophy is that anyone can have a lovely garden – whatever the space available.  You don't have to own a country estate to enjoy the outdoors at home – even the smallest courtyard can be transformed into a beautiful yet practical garden which will give years of pleasure.  Understanding the client's needs and wishes is the most important aspect of designing a garden – then interpreting that brief into an attractive and workable design for the space available.
Just a few of the comments from past customers:
We used Jardin Design last year and found the service extremely useful and professional.  Jane was always available to answer questions and provide ideas.  The implementation of the project was undertaken by Paul Atkinson and again, nothing was too much trouble.  The end result is terrific with everything finished to a very high standard."   Andy & Sylvia, Selly Oak
Jane and Paul created a garden that has matured over 3 years now and continues to give pleasure.  The structures they put in and the hard landscaping are holding up fine.  The planting has filled out but I can still care for the garden, I don't feel overwhelmed by things, which was one of the important factors for me.  I particularly like the way Jane achieved plant height in the garden, in a way that has not then grown to take over".  Chris, Kings Norton
 We are hugely impressed with the way Jane went about the project when we asked her to redesign our large, overgrown and shabby terrace.  She listened carefully to our ideas, offered sound advice and drew up detailed plans.  She arranged the builder and kept a close eye on the progress of the work.  Jane drew up a list of plants suitable for the area, and sourced and planted them for us.  Immediately after the work was finished, the terrace looked fantastic.  A year later, it looks even better, and has been greatly admired by friends. We have no hesitation in recommending her work".  Paul and Lynn, Moseley